AgendaLink Horizon:
Government and Non-Profit Meeting Management Simplified
Horizon provides a simplistic approach to agenda software. Our simple workflows were designed from a user experience first approach. We make it easy build agendas and publish minutes in no time.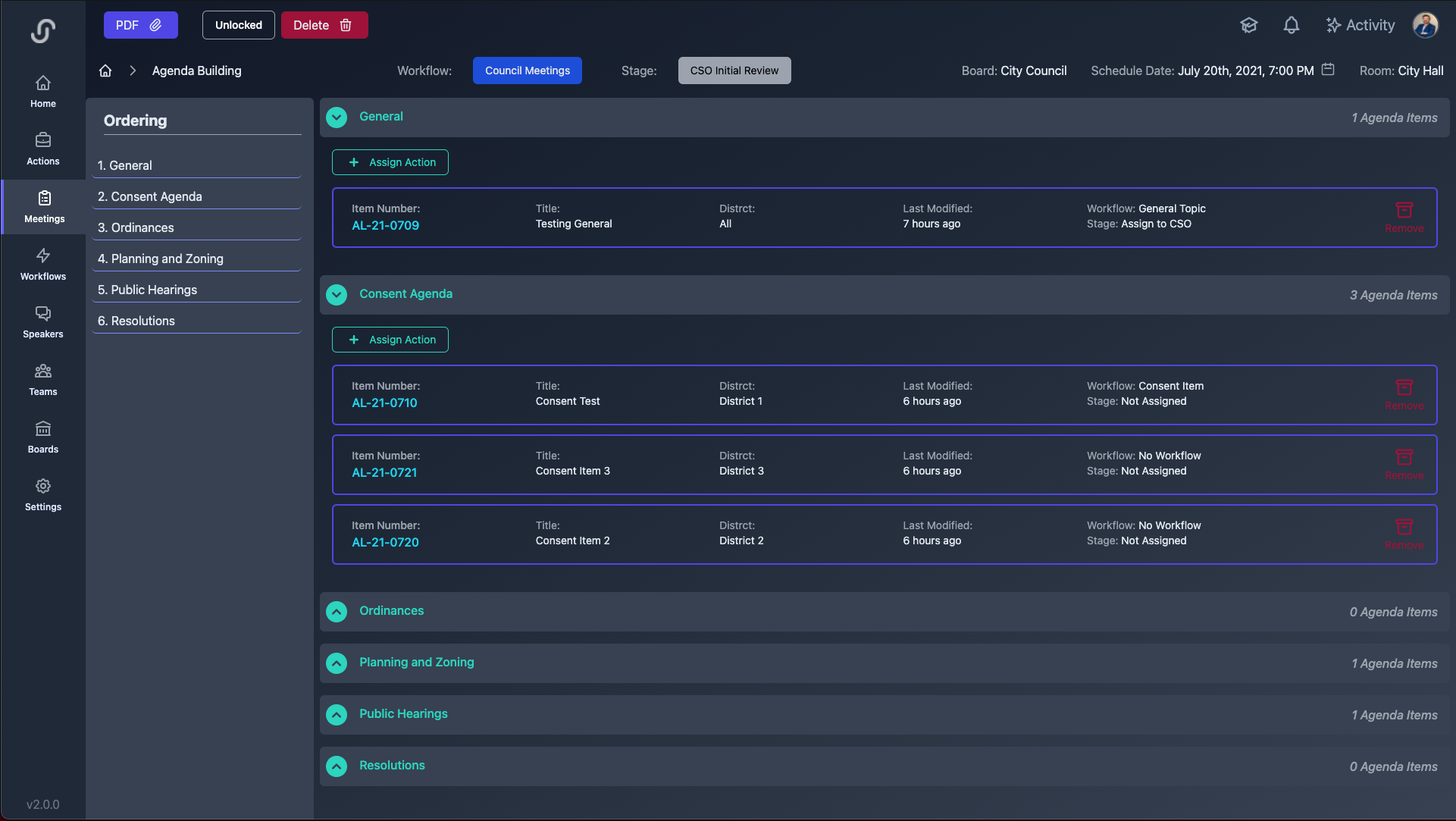 The Tools you Need
In a Single Solution
With AgendaLink Horizon your meeting needs are covered from start to finish.
Meetings and Agendas

Simple to use meeting and agenda management. Drag and Drop agenda building, custom per board topic templates, minutes review that's easy, custom PDF templates, and more.

Mobile Friendly Public Access

With the accompanying public site designed mobile first your viewers can easily find what they need with ease from mobile phone to desktop.

Public Speaker Form

Our public speaker capabilities remove all the complexities and extra steps most endure for their citizens to speak on a topic. See and manage registered comments and speakers before, during, and after a meeting with ease.

Comments

Communicate directly inside of an action and eliminate the need for emailing back and forth multiple times.

AV Integration

Extend the capabilities of your software to utilize the audio / video equipment in your meeting space. Automate the space to turn on / off, control presentations, microphones, cameras, etc.

Remote Voting

Whether in the meeting room or across the country users join meetings in the same manner and simplicity.

Workflows

Do your actions go through a specific process every time. With our workflows you design that flow making actions move quicker from creation to ready for an agenda.

API

Through both public and private APIs you can integrate the platform with other software and services such as Zapier. Processes you may already have can then be synced without the need for duplicate data entry.
Frequently asked questions
Can your software ... ?

If there's a specific feature you are looking for and we don't currently have it, we are more than happy to build it. We work very closely with our customers to enhance capabilities. New features are constantly being created and deployed.

How long do requested features take?

Depending on the complexity of the feature typical turnaround time is under 2 weeks.

Can multiple boards use the software?

Absolutely. Not only does it support multiple boards but you manage them yourself. Each board has it's own set of customization options for PDF templating, workflows, etc. In addition, our software supports multiple meetings to be run at the same time in different rooms while still controlling audio / video equipment.

Can users see other boards?

Unless the user is an administrator or belongs to a team that is part of a workflow for multiple boards, they can only see actions, agendas, minutes, and speakers of boards they belong to.

Do you support Single Sign On?

Single Sign On is coming in the very near future.

Do you work with services like Zoom?

Yes. We provide a live meeting feed that shows the active topic and details, speaker timer information, motioning, and voting results in real time. You just simply open that url in a browser tab and share it into the virtual meeting. The live feed also features a roll call to eliminate the need for long virtual roll calls.